Welcome!
The Logo'd Gear philosophy is Stay in Front of Your Customers! As your premier provider of promotional products, we understand the need to maintain customer loyalty by keeping your brand in front of your clients.
Does your company participate in tradeshows? We invite you to take a look at our fun and affordable tradeshow promotional item's, including corporate giveaways, custom printed bags, imprinted pens, coffee mugs, embroidered shirts and calendars.
We are especially proud of our ongoing efforts to help clients who are Going Green with our extensive product line of green promotional products and eco-friendly apparel.
We know that each of our customers has specific needs in how to brand their message and how to best service their internal and external clients. Although we have an extensive catalog of promotional products, our customer service is what keeps our customers coming back – we are happy to work with you to find the best promotional merchandise for you, your budget, and your marketing plans.
Ordering directly from our site is easy; simply click on any of the links to the left to start shopping, or feel free to call us directly at (704) 334-9333.
We are headquartered in Charlotte, North Carolina. Feel free to stop in and visit our showroom and manufacturing facilities. We look forward to helping you.
Featured Item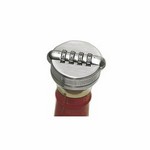 Solid Stainless Steel Combo Liquor/Wine ...
Perfect for securing premium wines and spirits. Locks up a bottle so that only the combination holder can reopen it. Instructions for using and changing the combo are included. 2 3/4" H x 2" Diameter
$21.14 - $22.18